Store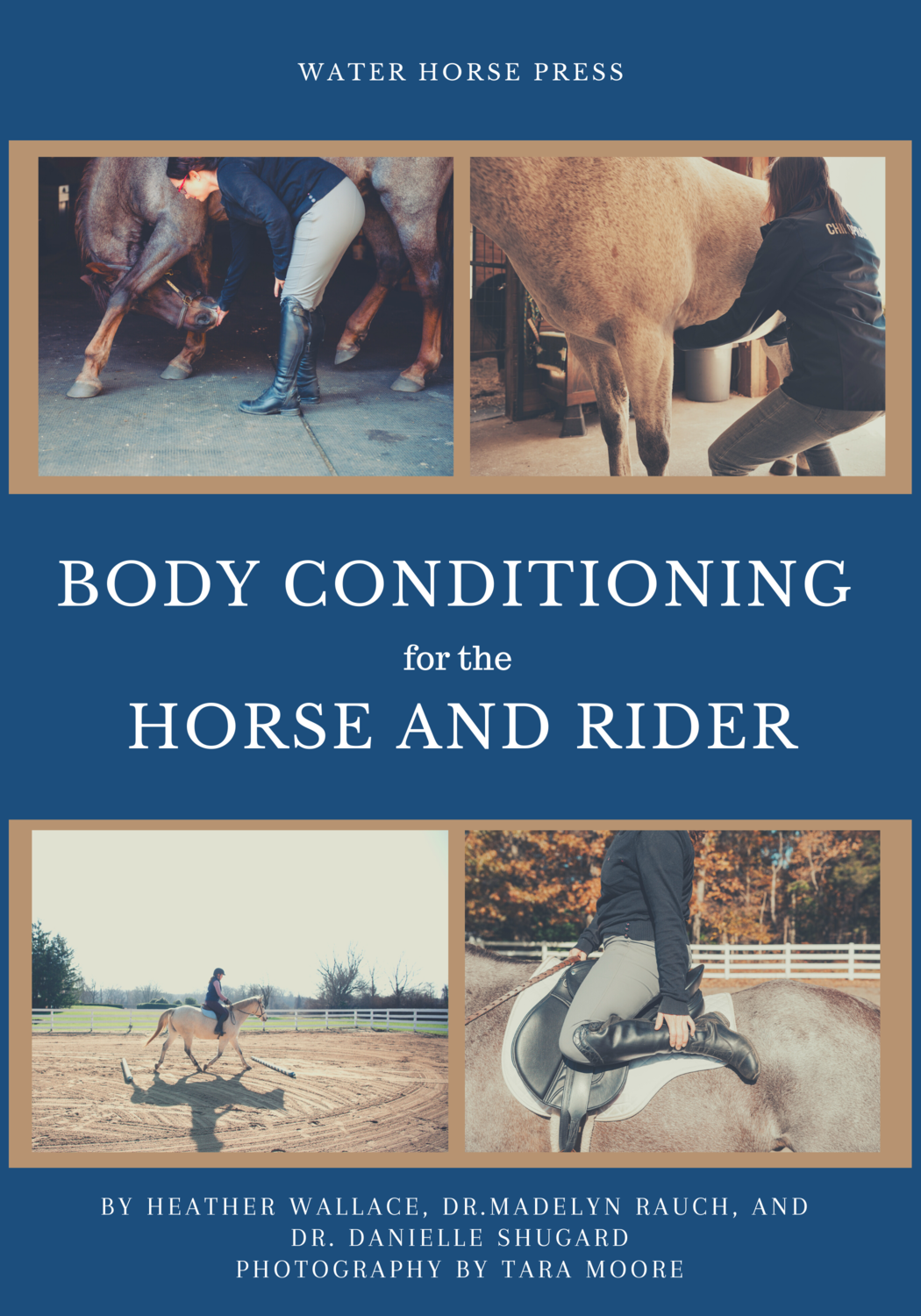 Body Conditioning for the Horse and Rider (Ebook)
SKU 00012
Product Details
RELEASE DATE MARCH 1, 2021
Build the best foundation for long-term success with your horse with the help of and Heather Wallace, an Equine Sports Massage Therapist and Equine Ergonomist, Dr. Madi Rauch, a Human and Equine Chiropractor, and Dr. Danielle Shugard, a Human Physical Therapist focusing on equestrians. They bring together their specialties for horse and rider body conditioning whether you are prepping for show season, coming back from injury, or want to create a solid base for long-term health.


It's a conditioning diary!

Learn what signs of pain to look for in your horse. Incorporate stretches into your daily routine. Find how to improve muscle tone and strength in your horse and the rider. Take notes and record your progress and your horse's progress. Horse owners, amateurs, and professionals alike will benefit from this collaborative look at building a strong foundation for the whole body.

In this beautifully photographed book, you will learn:

* About the types of muscle and why they are essential.
* How to stretch your horse without harm to improve mobility.
* Exercises to build a solid foundation for your horse.
* How the skeletal system of the horse affects the biomechanics of movement.
* How the rider's imbalance can create mirroring in the horse.
* Exercises for the rider to maintain strength and balance.
* A diary to track goals for both horse and rider.
* Suggested timeline and exercises.
Save this product for later
Happy Readers!
"Though a lover of horses, she was shy. Though a devoted of photography, she was timid. Though daily expressing herself on a blog she was timid. Though loving to travel she was an introvert. Putting it all together and we have a young mother, horse owner, blog writer who answers the call to travel to Mongolia for an endurance horse race as the photographer\news coordinator for the event. So she tells us the story and encourages us to try things outside our comfort zone and just do it."
"A lively but cautious Jersey girl accustomed to the comforts of home with her children and pets applies for the adventure of a lifetime--covering an endurance horse race in Mongolia for social media. Her story includes everything you wondered but were afraid to ask about her experiences on the steppes, especially as someone accustomed to First World comforts. How does she bring herself to, not only do her job but look forward to next year, and how the experience changes her along the way makes for a fascinating story."
"I enjoyed Heather Wallace's honest view of being an adult rider who recognizes she doesn't see riding the same way as she did in her younger years. This was a fun exploration of thoughts some mature riders have and that they try to chase away. The author discusses issues in a conversational way that had me both laughing with her and self-reflecting. I give her a lot of credit for putting herself out there in words, fighting doubt, and letting other riders know they may not be the only "timid rider.""
"This is the perfect book for a summer afternoon. It's a quick and easy read, with wonderful insights that easily translate into experiences everyone can relate to - not just riders. When I read Heather's story, it was surprising to me how similar her character was to my own, and how often I recognized myself in her pages. I loved the way she tied the theme of each chapter to a life lesson. While of course she does refer everything back to her experiences on horseback, her subtitled 'confessions' under each chapter heading in part two are easily extrapolated into every day living. If there is one criticism, it is that I would have enjoyed seeing more photos of the animals and people she talks about!
The final paragraph says it all and sums it up quite nicely, "face your fears and push through them however you can to follow your passion!"
"Coming for a timid rider, I felt everything in this book! It inspired me start taking lessons again and get over the "mommy fear" This book is a great, witty read!"
"I really enjoyed the behind the scenes trials, tribulations, and successes that Heather Wallace chronicles in her newest memoir. I felt like I was on the trip to Mongolia with her! As with all of her books, Heather's message of being bold and pushing through fear to find a deeper experience of life rings through. I enjoyed reading along as she recounted an adventure of a lifetime."
Let's Connect
Contact for interviews, review copies, or general inquiries.